Wee College is a program designed to provide kids with biblical foundations for their Christian faith through easy-to-understand lessons and activities.
These biblical foundations are taught over 3 years with kids as early as 4 years old up to 6/7years old. Each year includes 20 lessons, starting in October and wrapping up in Mid April. Click on the button below to register for 1st or 2nd year Wee College (3rd year will be added at Central Heights fall 2022). The cost for the year is $135 per kid.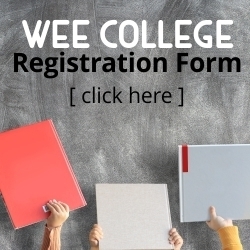 If you have any questions or are unsure on what year to register your kid(s) for, please email us kids@centralheights.ca.