marriage
Building marriages that last a lifetime.
That's the Central Heights Church vision for marriage that we want to make a reality for every couple in our community.
---
Marriage Mentoring
Newly engaged (or thinking about it) or maybe you have been married a while and find you could use some extra input to strengthen your relationship? Click here for more information.
---
Together for Good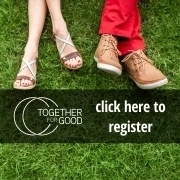 April 25, 2020, 9:00am-3:30pm (in the Women's Centre)
The Together for Good workshop is a chance to reconnect and re-­establish the foundation of your marriage and rekindle romance. Learn how to navigate your differences, prevent drift and work towards a relationship that will stay Together for Good.
You will be glad you invested in your marriage!
Invite a couple to join you or sponsor a couple to come.
$40 per couple includes workbook and lunch.

Comments of previous attendees:

It was great! Good mix of humor and seriousness. A good kick start to reconnect with my spouse. Thank you.

Great, awesome, helpful, inspiring! Very meaningful workshop.
Thank you for this time and space to talk about all these things! Super helpful to hear real life stories and being given practical steps to know how to grow deeper and more forward in our relationships. I really enjoyed my time today. I thought the presentation and content was excellent and fulfilling. I feel like I learned a lot about how to be a better husband and person. Thank you. I learned a lot today and I have a lot to talk about with my partner. We were definitely blessed and challenged.
It was one excellent course. Learned lots of effective ways to improve our marriage.
Great information. Lots of good content for future conversations and reminders of important areas of focus. Good encouragement for spirituality as a couple and as a family.
---