Our vision is for each woman who encounters Central Heights Church to have a place to connect with God, with other women, and to have an opportunity to give back to her community.
We would love to meet you! Women's Ministries at Central Heights is a safe place to belong, to grow, to learn and to serve!
---
Click here to "opt in"
to receive our monthly women's email
that will encourage you and update you on women's ministries.
---
September 23 // 7:00-8:30PM in Central Cafe
An evening designed to highlight programs and resources available for women here at Central Heights and in the Fraser Valley.
All women welcome.
Music & Light Refreshments.
---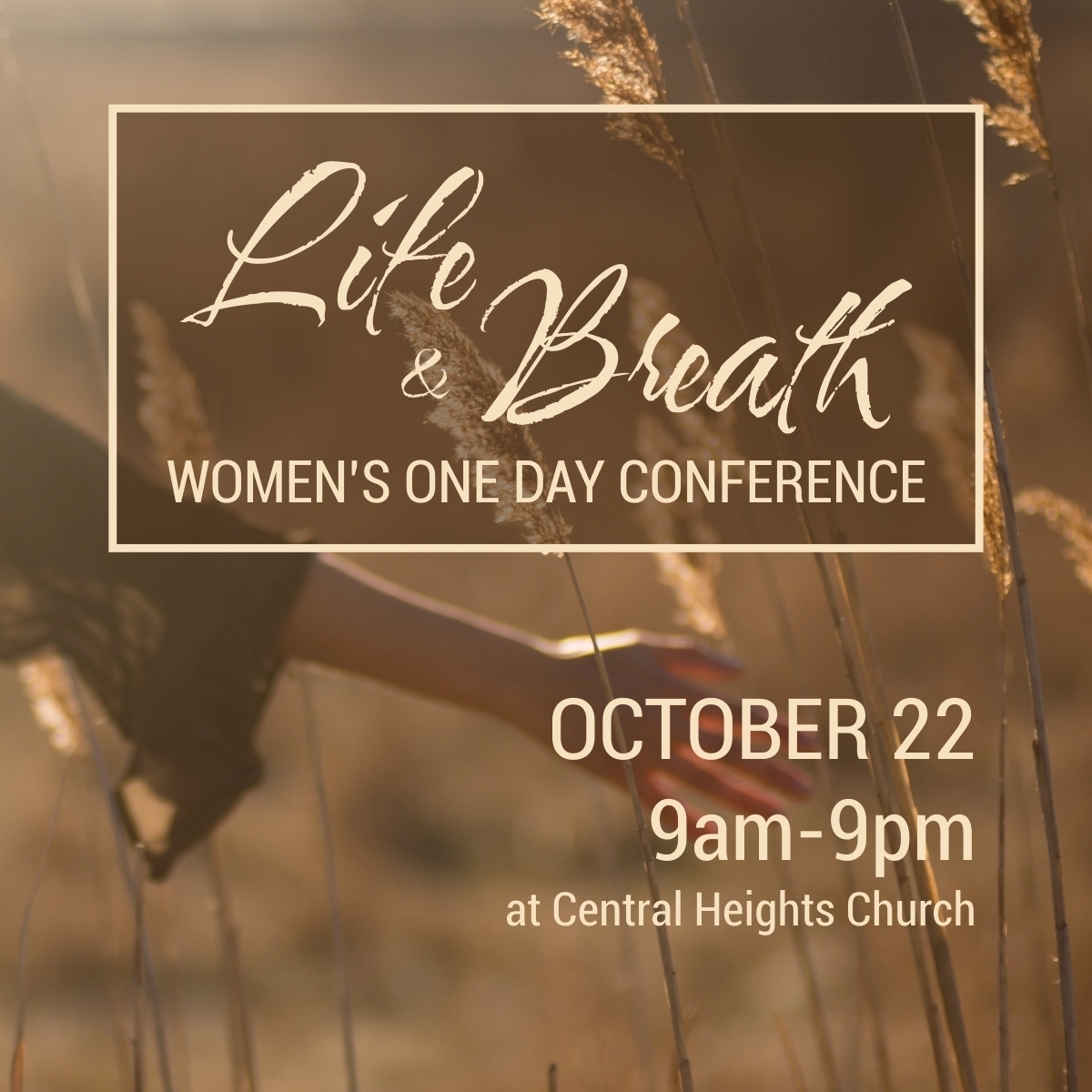 You are invited to our one day Women's Conference for a time of fellowship, worship and fun.
Our theme is "Life and Breath" - Acts 17:25b.
Early Bird $85 on or before September 11
$95 after September 11.
For more info and to register [ click here ]
---
Programs September to May:
Click each ministry name for more information.
Community Kitchen
Second & Fourth Thursday of every month 11:30 am – 1:30 pm
Contacts | Bible Study + Community
Wednesdays 9:30 – 11:00am
End Abuse - 3-part Series - When Love Hurts, Boundaries/Safe People, Understanding Shame
Wednesdays.
Evening in the Women's Centre
Tuesdays 6:30-8:30pm or 7:00-9:00pm
Classes available this fall (more to come in January!):
Precepts - Ignite Your Passion for God
Personalized Journal Project
Women in the Workplace Bible Study - Moments with Jesus
GriefShare - Surviving the Holidays
Mommy & Me Drop-In
Wednesdays 11:00am – 1:00pm
Moms and Tots Drop-In Play - Paused for the fall
Prayer for our Nation
Sign up for bi-weekly emails with a challenge to pray for our country
The Living Room
Wednesdays 1:30 – 3:00pm
Women's Centre Drop-in
Thursdays 10:00 – 11:30am
Women's Christian Writing Group
Wednesdays 7:00-9:00pm begins October 5
---
CHC Foodbank needs your help. See link below for the Women's Centre Food Bank List.
https://www.centralheights.ca/womendropin