Our vision is for each woman who encounters Central Heights Church to have a place to connect with God, with other women, and to have an opportunity to give back to her community.
We would love to meet you! Women's Ministries at Central Heights is a safe place to belong, to grow, to learn and to serve!
---
We invite you to partner with the Women's Centre to bless as many members of our community as possible with a hamper to prepare a Christmas meal.
Every $40 donated will purchase the contents of one hamper. Our goal is to prepare 60 hampers!
Make your donations to Central Heights Church designated "Christmas Hampers".
Distribution will take place December 7 & 14.
---
Groups + Programs September to May:
Click each ministry name for more information.
Community Kitchen
Second & Fourth Thursday of every month 11:30 am – 1:30 pm
End Abuse - 3-part Series (30 weeks) - When Love Hurts, Boundaries/Safe People, Understanding Shame
Evening in the Women's Centre
Sept 19 - Dec 12 Precepts (this class full). Watch for new classes in 2024.
Mommy & Me Drop-In
Wednesdays 11:00am - 1:00pm
Moms & Tots Drop-in Play
Tuesdays 10:30am-12:00pm
Prayer for our Nation
Sign up for bi-weekly emails with a challenge to pray for our country
Revive | Bible Study + Community
Formerly known as "Contacts".
Find out more here.
Tea & Crafts
Community, connection and care. Bring your portable crafts/hobbies to work on and come have tea together. Not into hobbies? Come anyway to chat and pray!
Tuesdays 2:00-3:30pm
No sign up required! Join us in the Women's Centre (north end of the building).
The Living Room (for Men and Women)
1st and 3rd Wednesdays of every month - 1:30-3:00pm
Women's Centre Drop-in
Thursdays 10:00 – 11:30am
---
Opportunities to Serve
Do you love to hold babies, help care for children, host our guests, connect with community, or serve behind the scenes? We have opportunities for you to serve!
---
Central Heights Foodbank and Women's Centre Donations
CHC Foodbank always has need for donated food items. Please donate if you are able.
Click here for the list of needs
We also accept clothing and household items, below is a list of the current most needed items.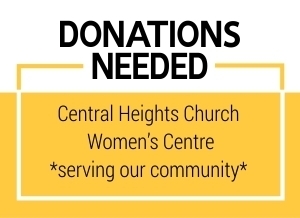 ---
Connect with us

Would you like to receive our MONTHLY WOMEN'S EMAIL that will encourage you and update you on women's ministries?