GETTING THE GOSPEL
This webpage is a great starting place if you want more on how to summarize and understand the good news about Jesus. Visit centralheights.ca/followJesus
"DEVELOPING INFLUENCE" - a 40 day guide
From April 25 to June 3, we worked on growing in our ability to have spiritual conversations that move people forward in following Jesus. You can find our 40 day resource here: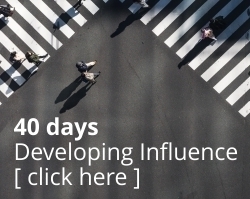 We also have a specific prayer guide to supplement the guide.
If you'd like a copy, let us know [click here].
FURTHER RESOURCES
"Soul Whisperer" by Gary Comer
"How To Reach The West Again" by Tim Keller [link to free E-Book PDF]
"After Doubt" by AJ Swoboda
Facing The Fear Of Rejection: