young adults
Come journey with us
At CHC Young Adults, we're hungry to see the next generation meet Jesus and begin a lifelong journey with Him. We believe in creating opportunities for young adults between the ages of 18-30 to explore and live out their faith in community.
Our Rhythm
We believe that healthy rhythms help us grow spiritually and relationally. We've structured our ministry around a large group gathering and intentional smaller gatherings, called Community Groups, to reflect that belief.
EMMAUS: A Young Adult Gathering
[FIRST AND THIRD MONDAY OF EACH MONTH]
Emmaus is a meeting place for the journey we're all on, a place where we gather as a big group to creatively engage in God's story through worship, storytelling, a message, prayer, and special topic nights.
COMMUNITY GROUPS
[SECOND AND FOURTH MONDAY OF EACH MONTH]
Our groups are the place we intentionally gather to do life together. We eat, share stories of how God is at work, pray, study the Bible, and have fun, all so we can take the next step on our journey with Jesus.
SPECIAL EVENTS
From time to time, we host special events to have fun together or we host workshops to think more deeply about God and the big issues of today so we can be equipped to live the way of Jesus in the world around us.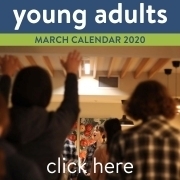 Connect with Us