Are you interested in having your child dedicated?
Child Dedication is a public testimony by parents acknowledging that their child is a gift from God. It affirms the parent's intention to instruct their child in the Word of God, guide their child in Christian living, and that, by the grace of God, they will lead their child to a personal relationship with Jesus Christ.
Dedication dates are tentatively on hold due to the current COVID 19 situation. Please stay tuned for new dates!
If you would like to dedicate your child(ren), please contact us a minimum of 6 days before the dedication date by clicking the button below.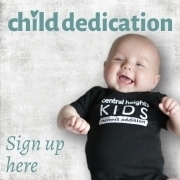 What does the Child Dedication Service look like?

The pastor calls the parent(s) and child forward and introduces them to the congregation. A clear statement of the meaning and significance of child dedication is given. The parent(s) are asked to read their chosen Bible verse aloud. A certificate of dedication is given to the parents.
"Let the little children come to me, and do not hinder them, for the kingdom of God belongs to such as these." Mark 10:14