September 17, 2021
The introduction of vaccine passports has brought another layer of complexity in responding to the Covid 19 pandemic. However, as per the public health order, we don't have to show proof of vaccination in person at our Sunday services; as well as most of the other activities we organize. For events that will require the vaccine card for entry, participants will be informed.
Here are the current guidelines in summary:
Indoor activities require masks
Proof of vaccination applies to groups over 50
Those that are sick are encouraged stay home
Worship services do not require masks or vaccination card proof. Masks are recommended.
Regardless of our opinion on the response to Covid 19, as God's chosen people, holy and dearly loved, let's put on compassion, kindness, humility, gentleness and patience. Let us bear with each other and forgive one another if any of us has a grievance against someone (forgiving as the Lord forgave each of us). And over all these virtues let us put on love, which binds them all together in perfect unity (spend time in Colossians 3 to see why these ideas are at the forefront).
As a church, we want to do our best to honour God by honouring the government and serve our community simultaneously where possible.
Feel free to connect with our team to dialogue further.
---
August 27, 2021
Once again, we recognize the growing tensions amidst the resurgence of COVID infections. As the BC Centre for Disease Control has stated that worship services are exempt from the updated public health regulations, we will continue to meet publicly on Sunday and encourage (but not require) mask wearing when attending.
Let's prioritize both caution and care as we represent Jesus to our city and interact with one another.
"And whatever you do, whether in word or deed, do it all in the name of the Lord Jesus, giving thanks to God the Father through him."
Colossians 3:17
---
June 30, 2021
With step 3 of British Columbia's restart plan we begin to enter the next phase of weekend gatherings as a church family.
Our sincere hope is that with rebooted opportunities comes renewed passion to follow Jesus - not just on Sunday, but everyday.
This can be more than the return to a building.
This can be more than a return to a service.
This can be about knowing, following, and loving Jesus better than ever.
We believe God works through prayer. So, honestly, what would it take to prioritize time here?
We know authentic faith isn't forged alone. So, for real, where do we need to be in community?
We have a city with real needs. So, practically, how can we do to help it flourish?
We can leverage the weekend service as a powerful launchpad to live like Jesus is alive all 168 hours of the week. So, why wouldn't we gather as the assembly of believers?
Let's genuinely pursue the glory of our Father in heaven, and position ourselves for the movement of the Holy Spirit as those in the first years of the church did: "walking in the fear of the Lord and in the comfort of the Holy Spirit, it multiplied." (From Acts 9:31)
Summer Weekend Services Info:
During the summer our in-person service will be Sunday mornings at 10am. This single gathering will build momentum leading up to our full "reboot" on Sunday, September 12.
Pre-registration will no longer be required. We will encourage reasonable spacing and recommend mask wearing for those who are not fully vaccinated. Worship through singing will once again be a key way to engage in our time together.
Church Online will also continue to be a helpful way to stay connected and encounter God through a digital experience every week.
Stay tuned for added details as we work towards activating some essential teams (such as our Kids and Prayer teams).
We love you!
Summer Discipleship Workshops
Featuring some special guests, practical insights, and refreshingly honest discussion, we are excited about 4 opportunities to know, follow, and love Jesus better.
Space is limited and registration is required here:
Summer Giving
Every summer, as rhythms change, we are reminded of the benefit of the Pre-Authorized Deposit. As we are away our worship through finances will continue as scheduled. You can also set this up by printing the following form, filling it out and forwarding to our church office with an attached VOID cheque.
[ click here to download PAD form ]
---
June 24, 2021
As we anticipate the next steps in British Columbia's restart plan and consider the dynamics of the summer season we will be shifting to a single in-person service Sundays at 10am beginning July 4.
We see this hour as a vital opportunity to be anchored in the reality of Jesus all together as a church family. This hour launches us to follow Jesus all 168 hours a week.
You can sign up for a Sunday service here: centralheights.ca/sundaysignup
Church Online will also continue to be a helpful way to stay connected and encounter God through a digital experience every week.
---
May 21, 2021
CHURCH OUTDOORS
We want to engage, equip, and empower people to follow Jesus all 168 hours a week. One of those hours can be at a weekend service in person!
On May 30 we will begin hosting 3 outdoor Sunday services of 50 people at 9:00am, 10:30am, and 12:00pm.
Registration is required and opens on 12:00pm on Wednesday. Click on a button below to register for a specific service time.
The service structure has been developed in alignment with the current public health guidelines. As such, face masks will be required and only the worship leader will be singing. Despite the regulations we are following, our aim is to meet with and encounter God so that we can be sent out into our week to reflect Jesus' glory and character to the world.
Things to know after registration:
Parking is on the west side of the facility near the Central Heights Community Garden.
There will be a check-in table for both registration when you arrive and for washroom access at the West Entrance. Upon check-in we encourage you to scan a QR code in order to access resources for the gathering, we will also have Kids colouring and activity pages.
Seating underneath tents will be provided.
Church Online will continue to be a digital part of our vision and strategy to make more and growing followers of Jesus. You can share or stream our services at your convenience at centralheights.ca/churchonline and/or join a group of others on Zoom as we participate in the online experience together Sundays at 11:00am here: https://bit.ly/CHCWatch
---
April 19, 2021
Where we find ourselves right now is in a time where, in some ways, COVID cases and hospitalizations are at their worst. And, at the same time, COVID fatigue is at its highest. We wrestle with the legality of public health measures. We wrestle with whether or not a pandemic is being fought at too high a price for other areas of society.
We recognize both the benefits and limits of Church Online.
We also feel the large and appropriate ache to return to large, in-person gatherings.
In light of all of these factors, we know that any decision will be imperfect for all people depending on your perspective and situation. We can't be certain about what's next, but we can determine how we respond to our circumstances. The pathway we are most confident in at this time is as follows:
- To enthusiastically continue to meet together.
As Hebrews 10:23-25 encourages us, we care about the posture "that" we meet more than "how" we meet. Our community groups are creatively finding ways to do life together, and serve our church/city within the parameters given to fight COVID-19.
You can get connected into a group here: centralheights.ca/groups
- To radically prioritize prayer.
With Jesus' instructions from Matthew 6:9-13 as our foundation, we know that this has always been the primary work of God's people. Individually, and with one another, we want to position ourselves for a movement of God in this way. This includes prayer for those we might feel are our "enemies," for our government leaders, and for all things to happen on earth as they happen in heaven.
You can join in on our weekly rhythms of prayer here: centralheights.ca/prayer
- To anchor ourselves in worship and the teaching of Scripture together through Church Online.
Even beyond the pandemic, Church Online will be a helpful and necessary part of our vision and strategy to make more and growing followers of Jesus. While we explore outdoor options for gathering on the weekend beyond the numbers of any single community group, we continue to embrace the digital service together. As we do so, we continually rehearse, explain, and proclaim the "gospel" that is God's power to save (Romans 1:16).
You can stream our services at your convenience and/or join a group of others on Zoom as we participate in the online experience together Sundays at 11am here: https://bit.ly/CHCWatch
- To emphasize what we're calling "168 Discipleship."
One of the things the pandemic has highlighted for us is the importance of knowing and following Jesus every hour of the week (all 168 hours). Each church will direct its energy and resources towards certain ends, and this is a primary aim for us.
As places like Colossians 3:17 inspire us, we are committed to engaging, equipping, and empowering people to follow Jesus - not just Sunday, but everyday. We invite you to join in this process at an intentional level!
Some helpful starting points include finding ways to serve our city here: centralheights.ca/city; following us on social here: instagram.com/centralheightschurch/; being inspired by the ongoing work of God at centralheights.ca/stories; or filling out a "Connect" form here centralheights.ca/connectform.
Regardless of what storyline about our culture, government, or even your own circumstances may be true, let's keep the main story straight: Jesus is the risen king, and he's still at work to build his church and restore all things.
"All honor and glory to God forever and ever! He is the eternal King, the unseen one who never dies; he alone is God. Amen."
1 Timothy 1:17
The Church and Covid-19 - A Statement
---
December 8, 2020
We continue to do our part in following our governments' efforts to push back the spread of COVID-19. This means that our weekend services and most programs will shift digitally and creatively until at least early 2021.
While this is an ongoing challenge that has restricted some of what we are able to do, we're still committed to engaging, equipping, and empowering people to follow Jesus - all 168 hours a week.
This Christmas will be different. For sure. But what if we could help make this Christmas like no other for God's sake? In a prolonged season of Covid, what if people are more open than ever to hearing a message of hope? As followers of Jesus that is what we carry and what we have to share … HOPE.
This Christmas you can share an invitation with your family and friends to experience God's hope. Christmas is coming and we want to make it easy for you to be an ambassador of this good news.
You can share social posts and/or pick up invite cards at the church office. Think of yourself as one of the shepherds out to spread the good news the angels proclaimed to them.
2:00pm - "Carols + Kids Christmas Kickoff" - live from the Central Heights Foyer" on YouTube
A time of singing traditional Christmas songs and enjoying some fun features for kids as we kickoff Christmas Eve at Central Heights!
3:00pm - "Christmas At Home" premiere on YouTube + centralheights.ca (streaming on demand at 4:00pm)
Featuring a short film, worship songs, and a message of hope!
As we journey through the end of this year let's be especially grateful that Jesus really is "Immanuel" - God WITH us.
---
November 19, 2020
In response to the announcements made by our government today, Central Heights Church will be suspending all in-person services and ministries until further notice.
Although this is an unfortunate change, nothing has ever changed about our mission or our God.
We see the exhaustion, stress, and anxiety you are experiencing.
We see the same thing in the lives of those who don't call Central Heights home.
The pandemic is difficult.
The spectrum of opinion and response is tiring.
The strain of discouragement and loneliness is debilitating.
And Jesus loves you.
You really really matter to him.
And you matter to us.
Take up the encouragement and the challenge to prioritize what the Holy Spirit says to us:
"Make sure that nobody pays back wrong for wrong, but always strive to do what is good for each other and for everyone else.
Rejoice always, pray continually, give thanks in all circumstances; for this is God's will for you in Christ Jesus."
(1 Thessalonians 5:15-18)
---
As per our government's orders November 7 for the Fraser Health region, we are suspending all in-person community groups and ministry programs until Monday Nov 23 at noon. Sunday morning services will continue to operate as they have been for the past several weeks.
Registration and COVID-19 protocol will continue to be the tools that help us physically gather on Sunday within the guidelines we've been given. "Church At Home" remains a helpful anchor point to the life of the Central Heights family as well.
We recognize that every person experiences the pandemic differently and will have different responses on how best to operate in it. At the same time our ultimate goal as a church is to honour God in all things (Colossians 3:17, Psalm 29:1-2, Isaiah 26:8).

At a different time and place, the Holy Spirit spoke through Paul. And these words are a helpful starting point for us to consider our posture towards Dr. Henry, our church family, and the Fraser Valley: "Remind the believers to submit to the government and its officers. They should be obedient, always ready to do what is good. They must not slander anyone and must avoid quarreling. Instead, they should be gentle and show true humility to everyone." Titus 3:1-2
Keep praying. Stay connected. Love Jesus and one another all 168 hours a week!
---
October 7
While our province continues in its current phase of COVID-19 protocol with physical distancing, mask-wearing, and gathering sizes of up to 50 people, we continue to proceed with care and compassion, seeking to honour the vulnerable and look to one another's interests in love.
Here are a few key highlights to be aware of as we enter the fall.
PRAYER
One of the most strategic things we continue to orient all of our ministry around is the privilege of prayer. We're believing that a movement of God will only happen as we engage in prayer. centralheights.ca/prayer
COMMUNITY GROUPS
We believe that life together is better than life alone. One of the best settings to be connected in our church family is in a community group. There are several new groups that have recently launched. You can join a group today! Visit centralheights.ca/groups for more.
Our ministry programs have also begun to re-activate both digitally and physically for all ages. Browse our "ministries" tab for more.
CHURCH IN PERSON
We value the physical gathering of our church family and invite you to consider selecting one of six opportunities to attend a live service on Sunday mornings! Fill them up and if we need to we will add more!
In order for us to provide the best and safest experience, registration is required. Details can be found at centralheights.ca/sundaysignup
CHURCH AT HOME
Our online services will continue to serve as a convenient way to be anchored in the life of our church family. We encourage using this option in your families, your community groups, or on your own as you can!
Kids Church at Home materials will continue to be posting on our website weekly. Find kids video packages, activity pages to do as a family, memory verses and a 4 day devotional called "God Time Pages" for elementary kids.
Weekly services can be found at centralheights.ca/churchathome
SERVE OUR CITY
2020 has brought many unique challenges and opportunities to be a presence that contributes to the flourishing of Abbotsford. We're revving up partnerships and initiatives to make a tangible impact on our city. centralheights.ca/city
STAY CONNECTED
We are active on Instagram, Facebook, and YouTube. For maximum awareness of how the Holy Spirit is at work in and through Central Heights, we invite you to follow along!
Let's be a church that prioritizes knowing and following Jesus - not just on Sunday but everyday, all 168 hours a week.
---
August 20
Weekend Services Restart Plan
Start: Sept 13
9 AM and 11 AM
Gathering in groups up to 50
Church at Home will continue for the foreseeable future, but we are excited that "in person" Sunday gatherings will take place at Central Heights beginning Sunday September 13 as we kick off our new series entitled "Calling."
Registration will be available beginning Tuesday, September 8. Watch for more information on how to sign up.
Three Location Opportunities:
Worship Centre Main Floor
Nikkel Hall
Summit Room (kids area)
Registration and Sign-In will be mandatory
Follow Directional Arrows
Children remain with parents under close supervision
No close mingling or close physical interaction
No lingering following the service so we can follow cleaning protocols
No outside cups will be allowed
Washrooms limited access (number of people)
Public Singing Allowed with masks / face shields
No touching – people or things (offering plate, bulletin, communion)
The parking lot will be separated for each group in the church
No transfer from one part of the building to the other
Sanitation regimen for high touch areas (door handles, surfaces, washrooms)
Central Cafe will be closed
Online Services continue to provide for most vulnerable & meet community needs
---
July 6
AN UPDATE FROM OUR TEAM
Summer and Covid-19.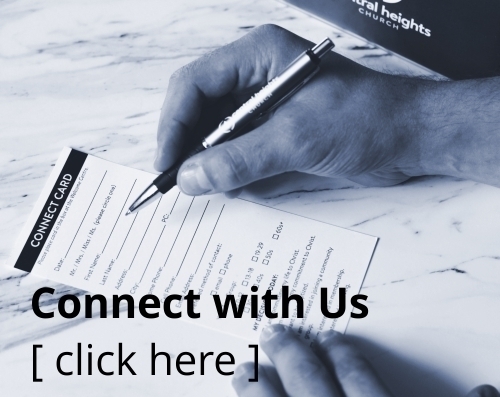 With current restrictions on meetings to be 50 people or less, we do not anticipate meeting on Sundays this summer at the church building. "Church At Home" will continue for the foreseeable future and we are continuing our emphasis on people meeting in small groups in person (with appropriate social distancing) or online. If you are not part of a group, we would love to help you get connected.
Summer wisdom.
In our unique challenges, do you ever feel like you could use some wisdom? I certainly do! So join us to engage in our summer "Church At Home" series in the book of Proverbs, "Pursuing Wisdom." Expect God's truth in this unique book to give you insight and understanding.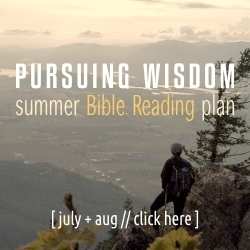 Summer rhythms often give us the opportunity to establish some new patterns too. If you don't have a summer reading plan, join with us July/August in reading through the book of Proverbs (2 times at that) and a number of Psalms (1-62).
Summer learning.
Here are a couple of opportunities this summer to equip you to grow as a follower of Jesus. Click on the link to find courses and times. Two of the courses will take place live at the church, with appropriate safety measures. You will need to register in advance for all courses and for the live courses registration will be capped to stay below the 50 people restriction.

Summer events.
Summer and missions.
Summer giving.
Thanks again to those of you have continued in faithful giving in this testing season. While some have lost their jobs and been unable to be as generous as they would like, others have stepped up and given more. We are doing what we can to keep expenses at a minimum while keeping up momentum to equip the church and reach out to our city. Every summer, as rhythms change, we are reminded of the benefit of the automatic withdrawal. If I am away my worship through finances will continue as scheduled. You can also set this up by printing the following form, filling it out and forwarding to our church office with an attached VOID cheque.
We are grateful for you Central Heights!
---
May 15
AN update from Pastor Tim KLASSEN
As a church we want to continue to be good citizens, good neighbors, and serve our community by abiding by the instructions given to us by our government as we continue to navigate life in the COVID-19 era.
Recent government announcements regarding the virus impact are encouraging for British Columbians leading to gradual lifting of some restrictions following the May long weekend. Still, the message has been often repeated that large gatherings (greater than 50 people) will most likely not be allowed this year. Now God could do something amazing to change that, but if things stay on course the way they are, we do not anticipate Central Heights being able to meet together as a whole church in our building in 2020.
However, we can still be the church!
God has designed us to grow in community. How it happens may need to adapt, but this truth has not changed. We want to encourage you to be intentional about connecting through the next months in the following ways: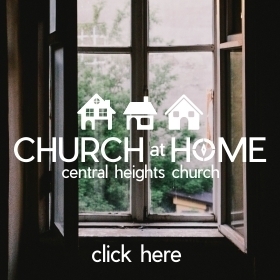 Church at Home … this will help us to be anchored as one church sharing a common experience in God's word and worship. Watch Parties enable you to do this now online with others in interactive prayer and discussion.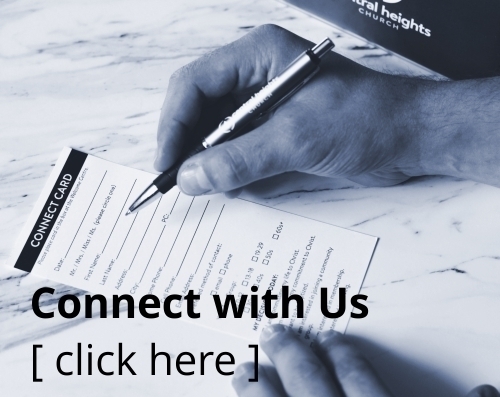 Be part of a Community Group… Groups are meeting online now, and small gatherings with social distancing (especially meeting in outdoor spaces) will be the first to be allowed as restrictions are relaxed. We see connecting and growing together with others in this way as fundamental for the church to remain healthy in this Covid-19 season.
You might also want to:
Take a summer learning course. … We are putting together summer "how to" courses to help you grow in the tools to following Jesus better. Watch for more info on these courses coming soon.
Join us in serving … We are in conversations with individuals and organizations asking and looking for opportunities to step in and help our city flourish. Watch for opportunities coming soon.
Join us in prayer … God can do what we cannot and we believe that he works in answer to the prayers of his people. Join us for different online prayer events [click here]. Need prayer? [click here to share your prayer request] We'd love to pray for you.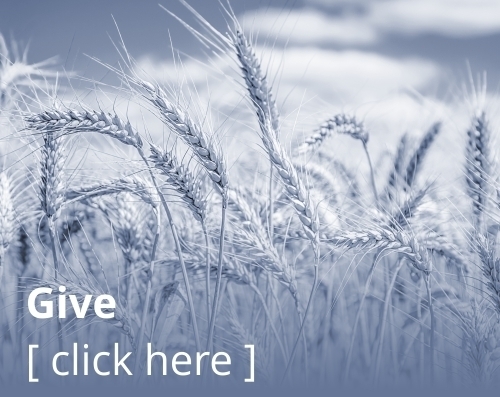 Continue to give … if God has blessed you with the ability in this season your generous giving enable us to continue to carry on the ministries of the church and help others through our Aid and Assistance Fund and Global Missions support.
As church leadership, we love you and pray for you.
May God protect you and keep you and fill your hearts with joy.
TK
---
April 3 / 3:00pm
A note from Pastor Tim
Hi Church. Can I just say that I miss you?!
The current reality of social distancing has been especially challenging for me when I think that I was away for a 3 month sabbatical, got to be physically present with our church family for but ONE Sunday and then … this… wow, I don't think any one of us saw this coming.
MINISTRY
Still, in this new environment, I am so encouraged by how I see the church continuing to be a community committed to Jesus and one another. There are a lot of great things going on, just in a different way.
I asked our pastors to give me one or two encouraging highlights of what they are seeing in their ministry. Have a read by clicking here.
As so much is happening online, we know that this is a challenge for those who aren't comfortable with the technology of that space. If we can help in any way to get you better connected, please message us at info@centralheights.ca and we will contact you by phone to assist you as best we can.

We are moving towards Easter with a short series entitled DREAM AGAIN. And yes there will be a package for you to experience Good Friday in your home as part of that. Be prepared with elements of communion – bread and wine or juice - as we remember on Friday, the precious death of Jesus which paved the way for His victorious resurrection.
FINANCES
A fall-out effect of the Covid-19 pandemic is that our financial world has been greatly impacted, the ripple effect which will most likely have an extended impact.
In our church finances, we entered the crisis behind in our operational giving. I am glad to report that we have not fallen further behind as people have continued to give generously in this time, some making their way to church and dropping cheques off and others setting up new automatic deposits. It has truly blessed our team to see this.
At the same time, we have not been able to eliminate our deficit and to exercise what we feel is good stewardship, we have had to temporarily lay off 5 of our support staff. We are topping up their EI benefits so as to minimize any financial hardship. Hopefully we will not need to make further changes to reduce our expenses.
PRAYER
Thank you for all of you have gone out of your way to give us encouraging words and to tell us that you are praying for us. That means so much to us and I am sure is accomplishing so much more than we know.
It has been exciting to see people jump into the new prayer opportunities online.
Let's continue to pray:
* For our care givers and first responders in this city
* That God will use this situation to bring about renewal in his church and revival in our city and world
* That the virus will be put to an end

Lastly,
Psalm 91 has been a catalyst in my prayers for you this week.
I am praying into these powerful words for us:
Psalm 91:1-7 He who dwells in the shelter of the Most High will rest in the shadow of the Almighty. 2 I will say of the LORD, "He is my refuge and my fortress, my God, in whom I trust." 3 Surely he will save you from the fowler's snare and from the deadly pestilence. 4 He will cover you with his feathers, and under his wings you will find refuge; his faithfulness will be your shield and rampart. 5 You will not fear the terror of night, nor the arrow that flies by day, 6 nor the pestilence that stalks in the darkness, nor the plague that destroys at midday. 7 A thousand may fall at your side, ten thousand at your right hand, but it will not come near you. (NIV)
---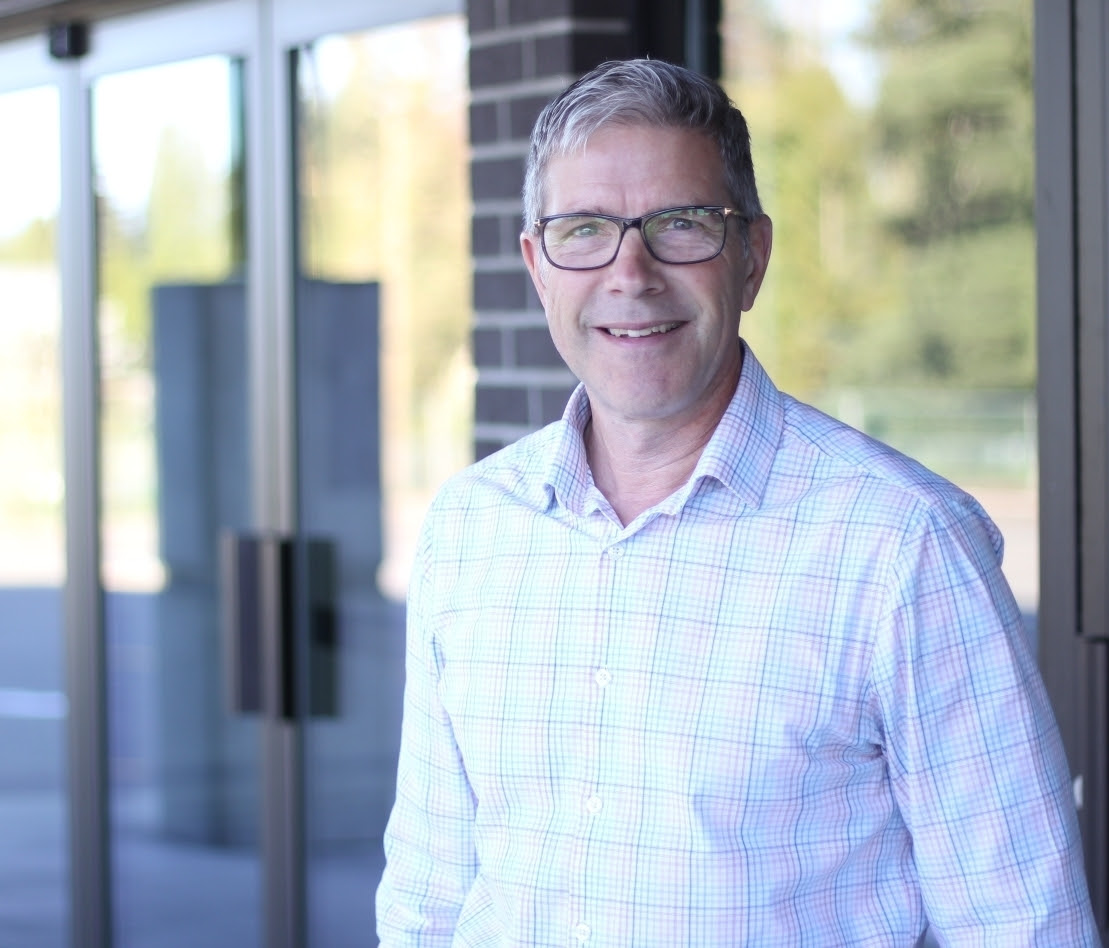 With Love,



Pastor Tim Klassen
---
March 30 / 5:00pm
Welcome
.

We

'd love for you to join us as we seek to become a

movement of more and growing followers of Jesus.

As our world faces the pandemic of COVID-19, we are still seeking to know and follow Jesus better in community.
Here are 5 important opportunities to engage in for the time being:

1 - Church At Home.
Every weekend we are producing a self-guided digital experience that includes kids church links, worship music, prayer facilitation, and an encouraging message from the Bible!

2 - Join us in prayer.
We are a praying family and believe that prayer connects us to the goodness of our God. We've developed new rhythms and opportunities that can be found here.

3 - Stay connected on social media.
We are active on Instagram and Facebook and are frequently communicating to you and with you there!

4 - Get ideas for growth.
Our team has compiled a list of helpful links and resources to help you during this season.

5 - Contact us.
You are not alone. Our pastors continue to be available to connect with you.
---
March 20 / 5:30pm
Hello Central Heights,
The attached video is a conversation between our Lead Pastor, Tim Klassen and our Elder Board Chairman, Mike Woodard. The conversation centers around health:
Physical and emotional health: As leadership, we greatly care about how our people and community are doing right now. If we can help in a practical way, please let us know. If you are available to help, please let us know that too. Together we can work together in supporting one another and those in our community.
Financial health: As you'll hear, at Central Heights we desire to be financially healthy and generous so that we not only carry on operations according to budget, but so that we can help others in time of need through our Aid and Assistance Fund. Since we are not using our building, we are doing our best to turn off all the heating and cooling systems.
This is a challenge in our current reality. We aren't meeting together right now physically but there are still several ways to give. You can go online to give by credit card and/or set up a preauthorized automatic deposit. You can still give by cheque in the mail or drop it off at the office (Mon-Thursdays 9am-noon, 1pm-4pm) and soon we hope to have giving by text.
Spiritual health: For many of us the current situation has reminded us how little in control of things we really are and how much we need God in our lives. It also reminds us where our hope and aspirations need to lie – in that which is eternal whereas Jesus said, "… neither moth or rust destroys and where thieves do not break in and steal" (or viruses and market crashes).
Our God always shows himself faithful and so we have a message of hope. So, let's pray for our city and world – for revival in the church and that the masses would be awakened to the life they can have in Jesus Christ. Stay tuned for online prayer opportunities to do just that.
Although you are isolated, you are not alone!
Rod Adrian
Executive Pastor
---
March 17 / 6:30pm
A lot has changed in the last couple of days, let alone weeks, because of the Covid-19 virus. As a church, we are doing what we can to be good neighbours and serve our community by suspending our weekend gatherings and non-essential meetings. Staff are primarily working off-site and conducting their meetings online.
It's different and not what we might want but it's not going to stop God from being at work around us and through us. There will be many ways for us to engage on mission with God together.
Each weekend, we will provide a "Church at Home" package that will include:
a video message
suggested song list
prayer guide
Kids material.
We will also be developing discipleship content for mid-week use that will help us all to follow and know Jesus better.
As we are being told more and more to isolate ourselves all of us can stay on mission with new opportunities to pray for one another and send one another encouraging messages.
I want to thank those of you that have already done that to our leadership team here. We can also continue the mission by continuing to contribute our financial giving, supporting our ministries here and foreign missionaries as we learn to adapt to our new reality. We can make ourselves available to serve our community in practical ways ... we will keep you posted as we have discussions with agencies like the Food Bank and Community Services.
Church, it's time to shine. The times ahead are going to be super challenging but let's remember that because of who our God is, our reasons for faith are far greater than our reasons for fear.
Tim Klassen, Lead Pastor
---
March 12 / 9:00pm
Following the recent announcement from MLA Adrian Dix, "As of today we are directing all event organizers to cancel any gathering larger than 250 people." Central Heights Church will suspend all Sunday gatherings till further notice.
We encourage you to watch our Sunday message online at centralheights.ca/specialmessage. We will post it on Sunday at 11 AM.
We want to be about the flourishing of our city, and contribute to its wellbeing. This means we will also monitor COVID-19 updates to suspend other smaller gatherings if necessary. We encourage our church family to serve courageously in our community, to be creative in encouraging others, and most importantly to pray.
Your Teammate In Christ,
Rod Adrian
Executive Pastor
---
March 12 / 3:30pm
Hello Central Heights Church Family,
Considering the recent concerns in our community about the COVID-19 virus, we want you to know that our Staff at Central Heights are taking every precaution to keep our church family healthy.
As of 3:30pm on Mar 12, Central Heights Church WILL GATHER SUNDAY for both the 9 AM and 11 AM services. Follow this page for updates.
Online viewing is a great way to be part of our Sunday mornings whenever you feel unwell. Visit the Central Heights Church website (centralheights.ca) to view our messages online. The messages are posted on Monday.
We are committed to keeping Central Heights Church a clean space for you to worship. We are in this together. Here are ways you can help:
Wash your hands often with soap and water.

If you are feeling unwell, please rest at home.

When coughing or sneezing, consider others and keep covered.

Disinfect belongings you bring to church from your home, like diaper bags, blankets, etc.
At CHC Kids we regularly ask parents to keep their children at home if they have any of these symptoms:
Runny nose

Headache

Cough

Sore throat

Fever

General feeling of being unwell
Our goal as a church community is to remain open and healthy, continuing to be a welcoming place for all people to experience the light and life of Jesus. As such, we are taking steps to ensure the continued well-being of our church family.
The Provincial Health Officer also asks us to refrain from customary greetings such as handshaking and hugging during the remainder of the flu season. Welcome people with a wave and a smile!
We will keep the doors open throughout the Worship Services and ensure that many of our doors remain open through the building or be held open to mitigate touching surfaces.
A significant change you will see is that we will be taking our offering at the end of the service and hosts will hold the offering bags at the doors of the church when you exit. This means we don't need to touch the basket as it passes by us in the seats. Remember you can also give electronically at the pay station or on-line at our website: https://www.centralheights.ca/give
Our facilities staff continue to clean and disinfect the church, paying special attention to objects and surfaces in high traffic areas. We have increased our disinfecting schedule in Kid's Church with toys and surfaces being wiped down before and after every service and event.
If you are feeling ill, we do ask that you consider watching our sermon series online at home. Our sermons are posted on our website by Monday. Also, and as always, if you are away from the church because of any kind of illness, please call or email the church so we can pray with and for you.
If you have recently travelled out of country, please be considerate of others and monitor your health closely. If you become sick upon your return, call your local Public Health Authority for further instructions.
Most of all, keep showing love in practical ways to those who need it most.
Your Teammate In Christ,
Rod Adrian
Executive Pastor
1661 McCallum Road | Abbotsford, BC
w 604-852-1001